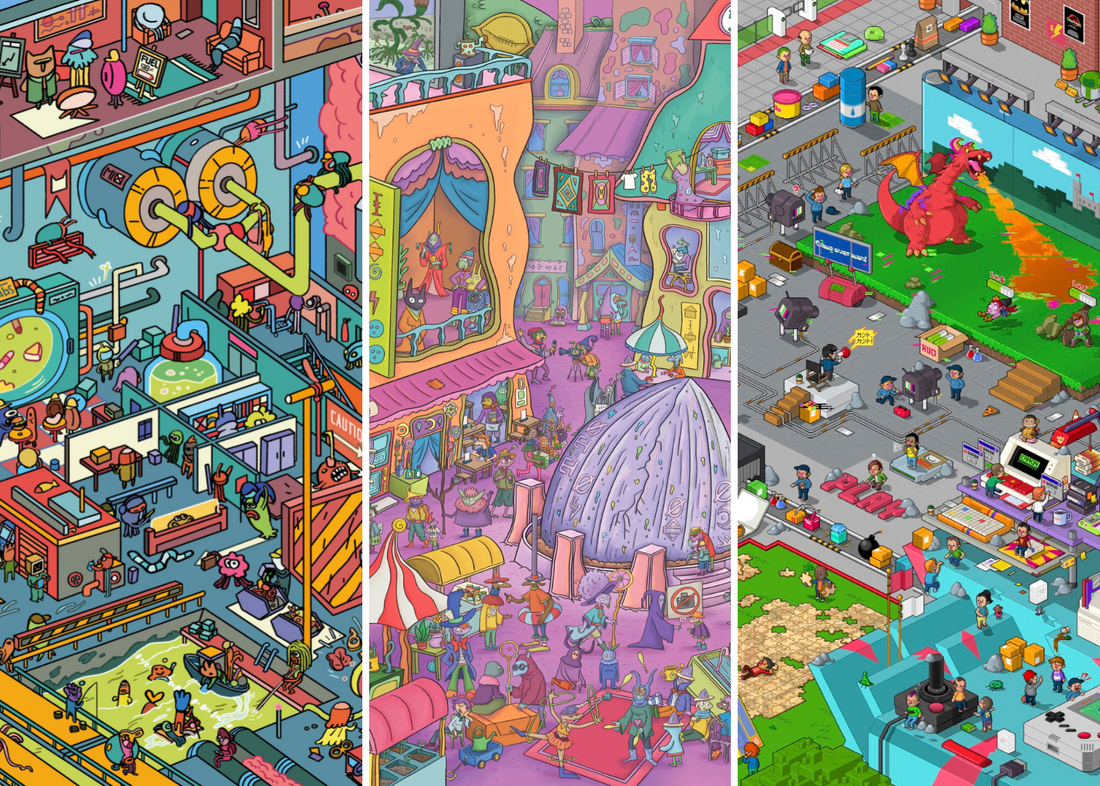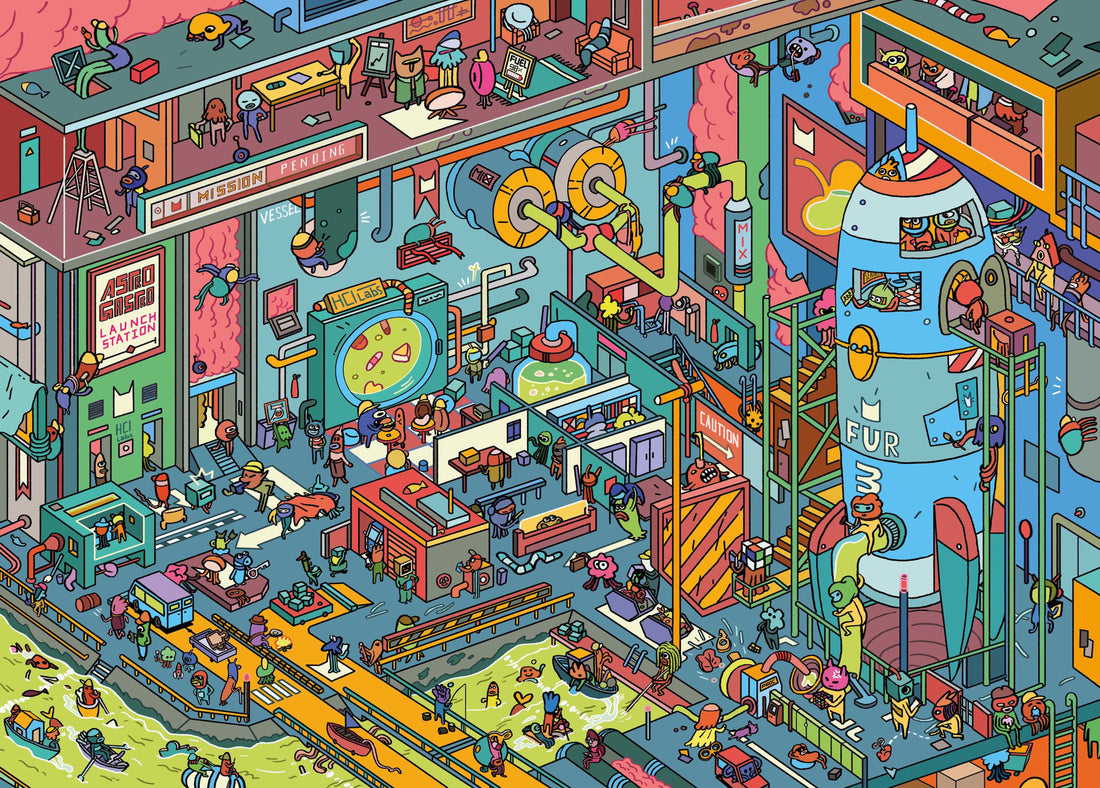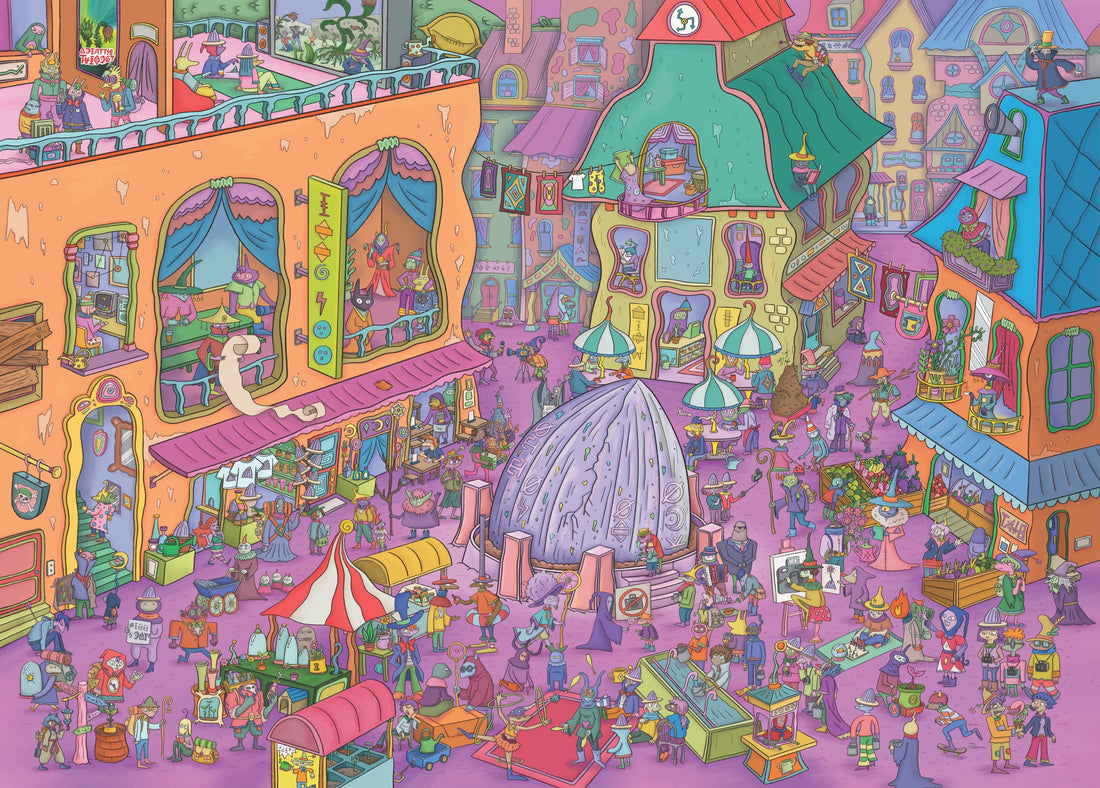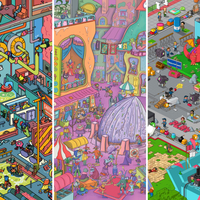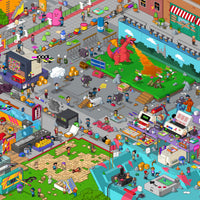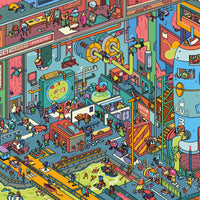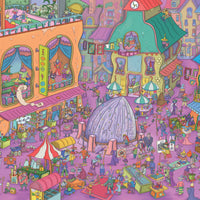 Solve all 3 Mystery Puzzles in this bundle: AstroGastro | Glitch | Shutterbug
Unique and challenging experience:

 

A fun and satisfying challenge that provides hours of entertainment!
Incredibly detailed image:

 Intricately illustrated with countless details to discover

Improves cognitive skills: D

 

 

evelops critical thinking, pattern recognition, memory, and problem-solving abilities



Relaxation and stress relief:

 

Take a break from screen time and unwind



High-quality puzzle pieces:

 

Durable, thick, matte-laminate material that withstands repeated handling



For all skill levels:

 

Ideal challenge for newcomers to puzzles or experienced pros
Solo or group activity:

 

 

A fun bonding experience to do alone or with family and friends

A fun and engaging gift:

 

 

A meaningful gift for any special occasion
Product Details:
Included: 3 x 1000 piece jigsaw puzzles
Finished puzzle size:

 

50 x 70 cm
💙 5% of puzzle sales goes towards supporting undiscovered artists and their journeys
Glitch
A set of computer errors turns a movie set into chaos! Will the cast make it out alive and overcome the fire attack from a roaring dragon?
Build the puzzle to find out what happens in Glitch
Astro Gastro
In a city with strange objects raining down from above, the inhabitants are working hard to reach the Great Beyond.Will they see what's on the other side?
Build the puzzle to find out what happens in AstroGastro!
Shutter Bug
A great mysterious monument attracts travelers from all over the world.Does watering it really bring luck, and why is no one allowed to photograph it?
Build the puzzle to find out what
happens in Shutterbug!
How It Works
You piece together the clues, secrets, and mini stories bit by bit, until you finally uncover the secret ending...
#ODDPIECES
Show us your puzzles! Tag @oddpieces.co and use the hashtag #ODDPIECES for a chance to be featured!
Nick and Mandy Barron
Fun and unique!
We absolutely loved the experience of putting this puzzle together. The difference between the two images gave us a quite a unique challenge and the artwork is so colorful and fun! Highly recommended! From start to finish it took us about 10 hours.
Elizabeth McElveen 
Worth the price!
Get this puzzle - you won't regret it. Not only is this a creative design with a surprise twist BUT the artwork is incredible! And the puzzle itself is superb. Sturdy pieces that click together easily (and stay together), design that is super fun to match together and no puzzle dust and no peeling! The workmanship is impressive and cannot wait to do my next OddPieces puzzle!!!
Filipe Oliveira 
The perfect gift to a puzzle and mystery lover
I gifted this to my wife for Christmas and she absolutely loved it. Putting it together and trying to figure out what happened, only to slowly be able to decipher the (crazy) story as you wrap up the puzzle is so much fun. The quality of the pieces is very good and I'm dating and sealing the conclusion envelope so my daughter can solve it one day.
Cecilia Mok 
Delightful Storytelling
From the box, to the comic book, to the final puzzle - each step is filled with thoughtful curation and experience as you follow along. The puzzle keeps you going as you try to see where the characters and scenes have changed.Each transformed scene brings surprise and delight! Great for all ages. Really enjoyed the art too.
Great quality!
The only reason I am giving it four stars instead of five is that the puzzle had about 5 or 6 pieces that weren't cut all the way through. Other than that, the quality was great!
I've only finished two Odd Pieces puzzles so far but I know that, without a doubt, I will be getting more soon. They are such a fun and fresh way to engage in jigsaw puzzles without being the straight forward puzzle-picture-on-the-box like one usually expects. I'm so happy I took a chance with this purchase because it really paid off! Will be buying more soon :)
So much fun!
I love the Odd Pieces puzzles. They have beautiful designs and they are creative and challenging. The story lines add some fun to the puzzles as well.
I don't know it is a gift for my grand son. It looks interesting
Frequently
Asked
Questions
Odd Pieces are a new kind of 1000-piece jigsaw puzzle with beautiful, unique art created by undiscovered artists.They include a comic book that introduces you to the world presented in the puzzle, along with a surprise at the end that you can discover by following the clues. Odd Pieces are some of the best-selling and most-loved puzzles on Kickstarter.com, where they've been backed by over 9,900 people and reached over 100x its original fundraising goal!
There are 1,000 pieces in every Odd Pieces puzzle.
Besides the puzzle, you'll also find:
- Life-size Puzzle Guide Map
- Storytelling Comics
- Treasure Hunt Clues
- Limited Edition Sticker Pack
- Secret Ending Envelope
Our puzzles are loved by everyone! They are super fun for kids, while challenging enough for adults. Gift them to your friends and family and enjoy hours of fun together
While getting to know our artists, we realized that the road to creating art full-time was not always easy. That's why we are committing 5% of every puzzle sale to support other artists and their journeys! We will be awarding grants to artists who are filled with passion and talent, but who are short on resources to make their dreams come true. There are thousands of undiscovered amazing artists (and probably at least a few would-be Picassos!) who are limited in their creativity due to financial troubles. We want to help them fulfill their potential! If you are in that situation, apply for the grant now!
Please email us at hello@oddpieces.com. Our kind support team will be happy to help you out!