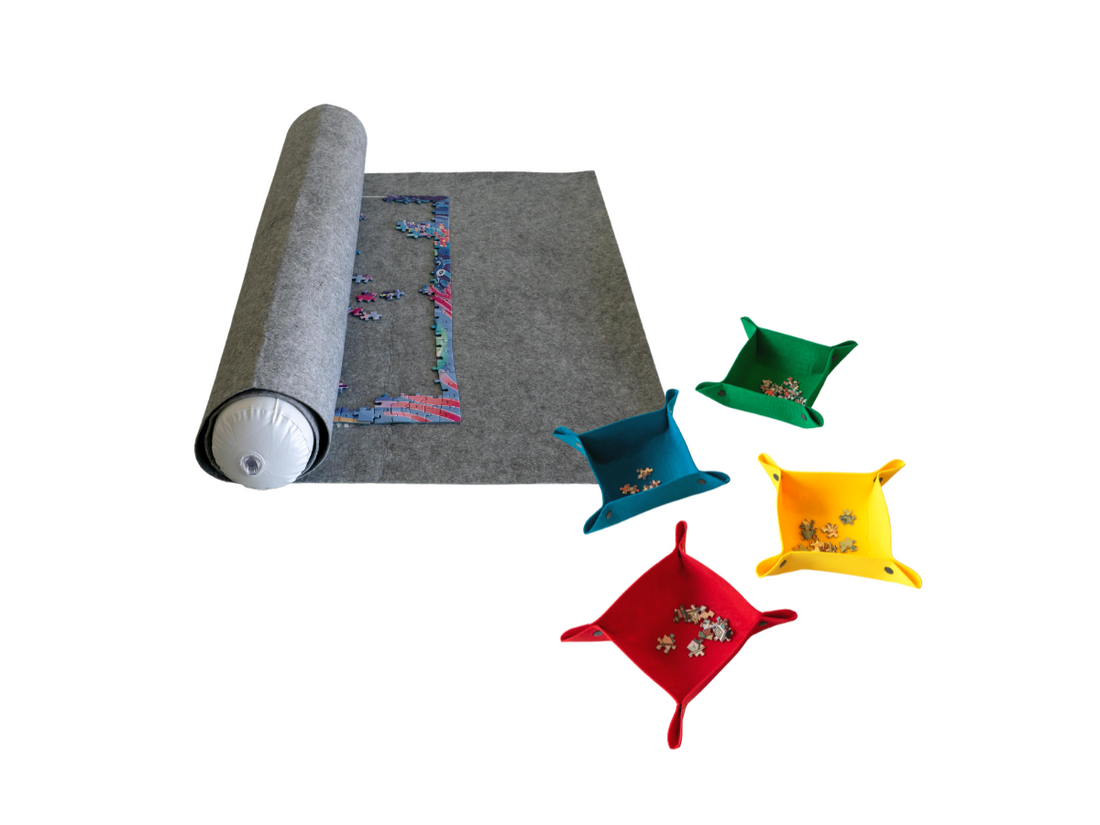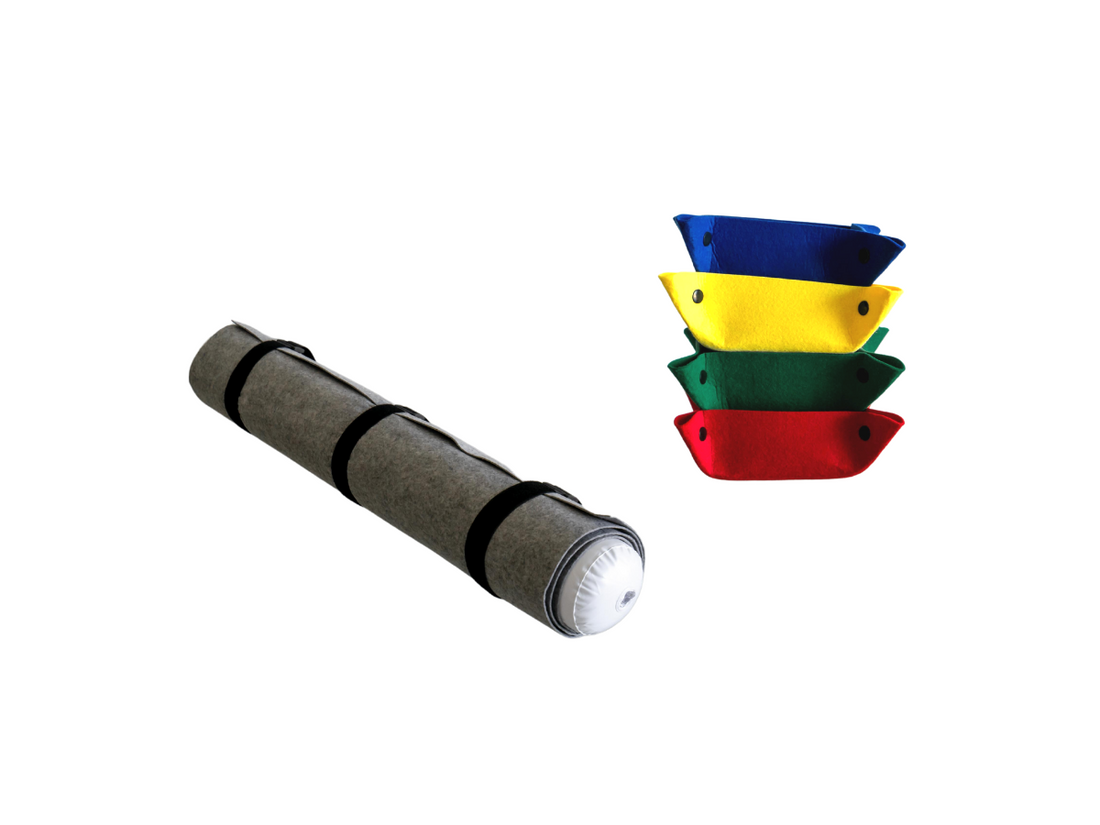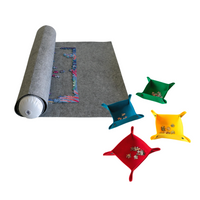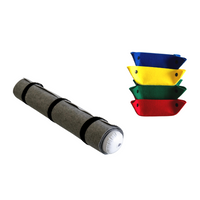 This puzzle organizer and sorting tray kit is a must-have for an efficient and convenient puzzling experience. Simply use the puzzle mat and roll up to save your progress wherever you are.
𝗜𝗡𝗖𝗟𝗨𝗗𝗘𝗦:
👉 4x Sorting trays to organize your pieces according to shapes and colors
👉 1x Puzzle mat with printed outlines to give you an edge in puzzling. No pun intended.
👉 1x Blow up tube, hand held pump, velcro straps and drawstring bag
💙 5% donated to support artists

Wonderful Product AND Fantastic Customer Service
The Odd Pieces puzzle brought three generations together at the table for LONG stretches of time WITHOUT interest in our electronic devices. What? IKR?! That really says something! :-) The puzzle was delightfully challenging and very well-made. The Sorting & Storage Kit was very helpful. Initially, the teens in the group were not very interested in the sorting containers. They just wanted to get in there and get it done, however, next time I looked, they were using them (likely due to the fact that the puzzle was harder than they had anticipated. The thick, felt mat made it super easy to work the puzzle on the dining table, then move it out of the way for meals. As soon as the dishes were cleared, the puzzle was back! LOL!
When we had an issue with one of the corner snaps on the green sorting container, Odd Pieces jumped into action and got us everything we needed and went above and beyond to make us happy!! I will say this, as a consumer (especially these days), it's important to understand that sometimes things may take a minute. Patience and kindness goes a long way and is met, by Odd Pieces, with friendliness and generosity. If you ever have an issue (which is likely rare), simply give them a chance to make it right. I am certain they will. - Thank you Odd Pieces for being such a wonderful company with great products and customer service that rocks! Cheers!
I like how the system is collapsible so it is easy to store.
great quality
very useful tool when you have baby around
Great product
The mat and the holders are perfect for my wife and I to use together and not have pieces all over the table, with cats in the house it makes it rough to not have pieces all over the place and it helps when you can keep them contained.
Very satisfied! Thank you.
Frequently
Asked
Questions
Odd Pieces are a new kind of 1000-piece jigsaw puzzle with beautiful, unique art created by undiscovered artists.They include a comic book that introduces you to the world presented in the puzzle, along with a surprise at the end that you can discover by following the clues. Odd Pieces are some of the best-selling and most-loved puzzles on Kickstarter.com, where they've been backed by over 9,900 people and reached over 100x its original fundraising goal!
There are 1,000 pieces in every Odd Pieces puzzle.
Besides the puzzle, you'll also find:
- Life-size Puzzle Guide Map
- Storytelling Comics
- Treasure Hunt Clues
- Limited Edition Sticker Pack
- Secret Ending Envelope
Our puzzles are loved by everyone! They are super fun for kids, while challenging enough for adults. Gift them to your friends and family and enjoy hours of fun together
While getting to know our artists, we realized that the road to creating art full-time was not always easy. That's why we are committing 5% of every puzzle sale to support other artists and their journeys! We will be awarding grants to artists who are filled with passion and talent, but who are short on resources to make their dreams come true. There are thousands of undiscovered amazing artists (and probably at least a few would-be Picassos!) who are limited in their creativity due to financial troubles. We want to help them fulfill their potential! If you are in that situation, apply for the grant now!
Please email us at hello@oddpieces.com. Our kind support team will be happy to help you out!