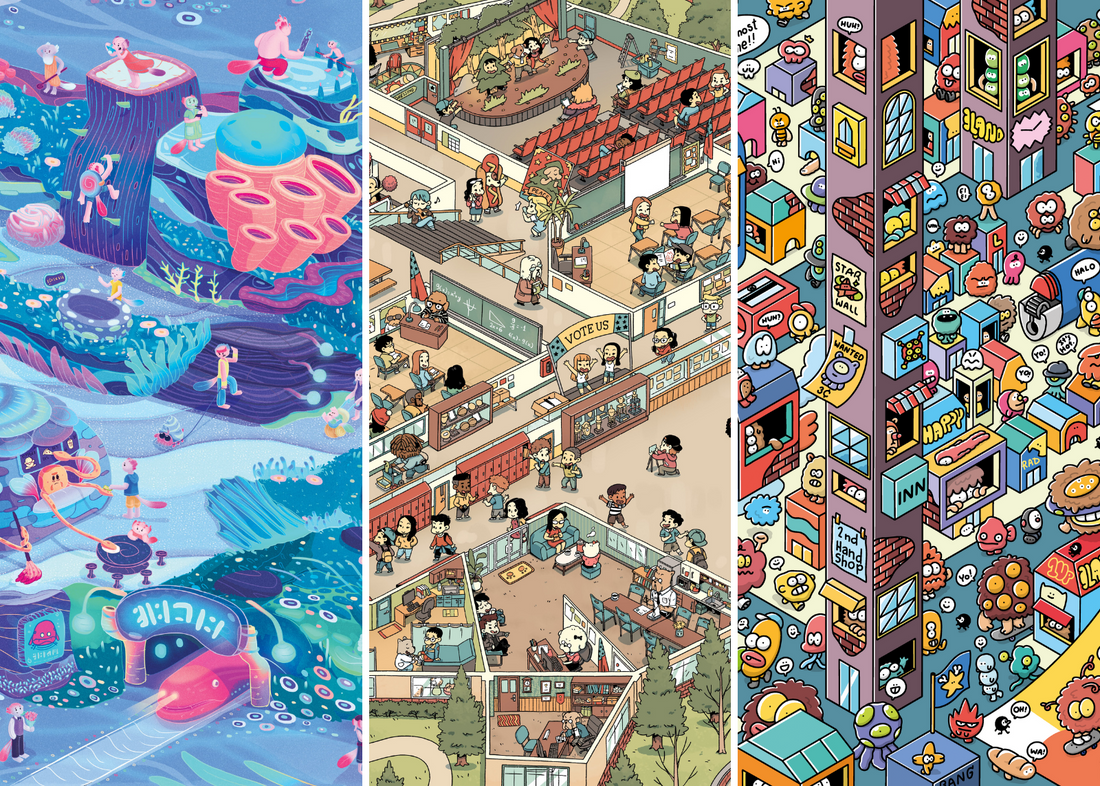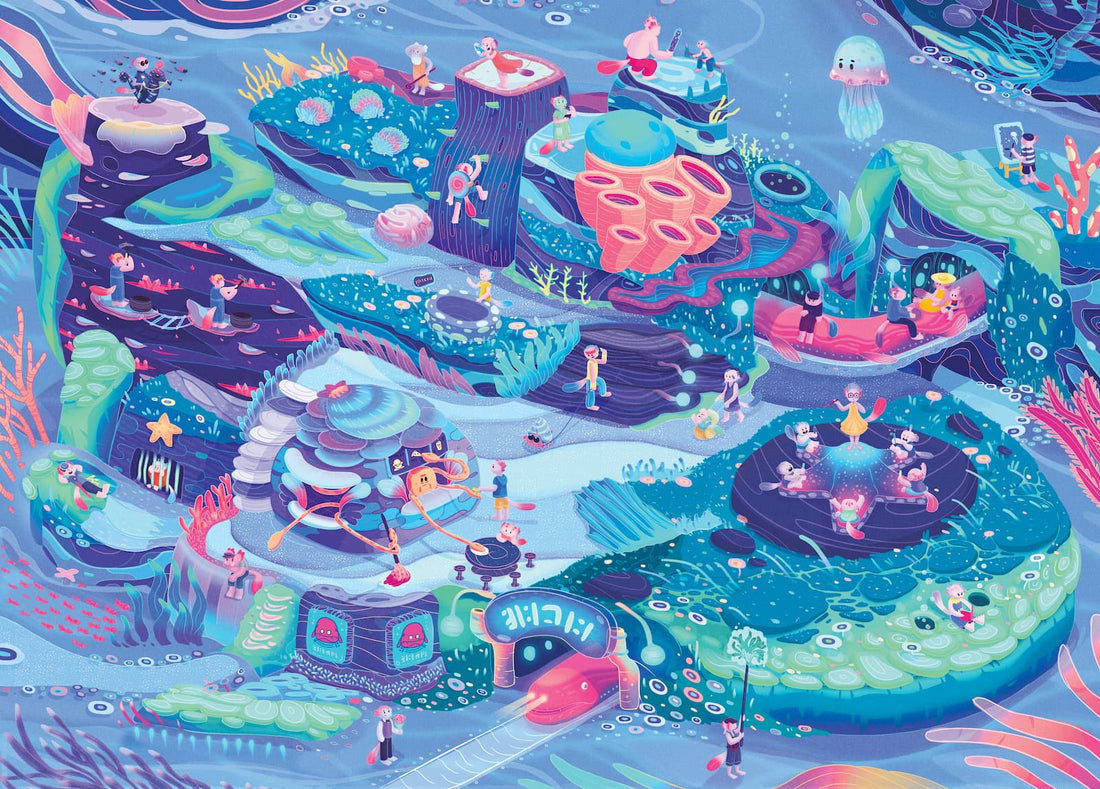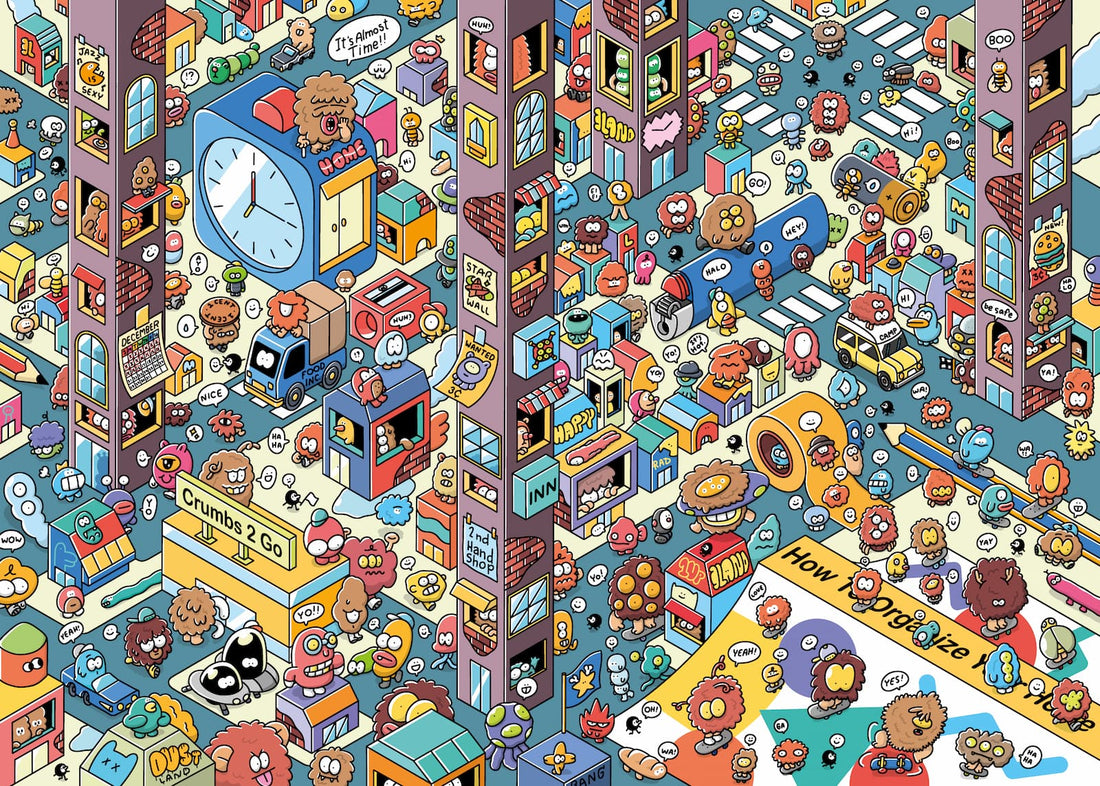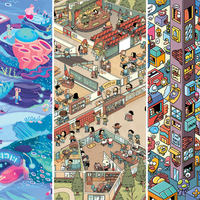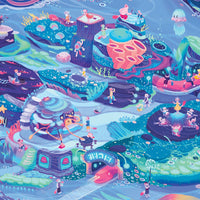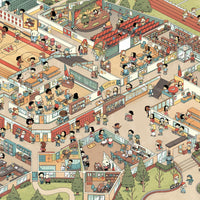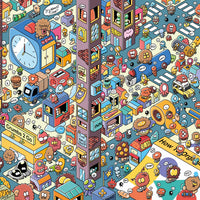 Solve all 3 Mystery Puzzles in this bundle: Beyond the Kelp | Snack Attack | Turbo 3000
Unique and challenging experience:

 

A f

un and satisfying challenge that provides hours of entertainment!

Incredibly detailed image:

 Intricately illustrated with countless details to discover

Improves cognitive skills: D

 

evelops critical thinking, pattern recognition, memory, and problem-solving abilities



Relaxation and stress relief:

 

Take a break from screen time and unwind



High-quality puzzle pieces:

 

Durable, thick, matte-laminate material that withstands repeated handling



For all skill levels:

 

Ideal challenge for newcomers to puzzles or experienced pros
Solo or group activity:

 

A fun bonding experience to do alone or with family and friends

A fun and engaging gift:

 

A meaningful gift for any special occasion
Product Details:
Included: 3 x 1000 piece jigsaw puzzles
Finished puzzle size:

 

50 x 70 cm

💙 5% of puzzle sales goes towards supporting undiscovered artists and their journeys

Snack Attack
Dive into the world of Woof High, where dogs are teachers and humans are students. Lurking just around the corner, the Principal smells trouble... But what trouble could there possibly be?
Build the puzzle to find out what happens in Snack Attack!
Beyond the Kelp
In a world under the sea, not too dissimilar to ours, inhabitants flow through their lives day in and day out. It feels like an inescapable 'sardine race' with no end in sight. But what's about to happen will completely alter their perspectives forever...
Build the puzzle to find out what happens in Beyond the Kelp!
Turbo 3000
Jump into a world down under. Society is thriving, prosperous and excited for the future. That is, all but one pessimistic old soul constantly babbling about the foretold prophecy, "The Great Cleansing". Should the residents of Rugsville be alarmed?
Build the puzzle to find out what happens in Turbo 3000!
What's In Each Box
1x 1000pc jigsaw puzzle

2x Storytelling comics

2x Puzzle guide maps

1x Hidden clue checklist

1x Secret ending envelope 🤯
#ODDPIECES
Show us your puzzles! Tag @oddpieces.co and use the hashtag #ODDPIECES for a chance to be featured!
Fun and unique!
We absolutely loved the experience of putting this puzzle together. The difference between the two images gave us a quite a unique challenge and the artwork is so colorful and fun! Highly recommended!
-Nick and Mandy Barron
Worth the price!
Get this puzzle - you won't regret it. Not only is this a creative design with a surprise twist BUT the artwork is incredible! Sturdy pieces that click together easily (and stay together), design that is super fun... no puzzle dust and no peeling! The workmanship is impressive and cannot wait to do my next Odd Pieces puzzle!!!
-Elizabeth McElveen 
The perfect gift!
I gifted this to my wife for Christmas and she absolutely loved it. Putting it together and trying to figure out what happened, only to slowly be able to decipher the (crazy) story as you wrap up the puzzle is so much fun.
-Filipe Oliveira 
Delightful Storytelling
From the box, to the comic book, to the final puzzle - each step is filled with thoughtful curation and experience as you follow along. The puzzle keeps you going as you try to see where the characters and scenes have changed. Each transformed scene brings surprise and delight! Great for all ages.
-Cecilia Mok 
Awesome concept
What a cool concept! It was challenging without being annoying. A joy to put together!
Amazing
The puzzles were fun. Beautiful design and well crafted. 100% going to buy more
Excellent and something different
As someone who enjoys Jig-Saws I saw this advertised and was intrigued.,Ordered the series 1 bundle which whilst it was the most I've ever paid for 3 jig-saws, I didn't see as overly expensive.
We have completed one so far which was Turbo 3000. I won't spoil the surprise but we really enjoyed completing this and got such a sense of satisfaction when we could finally open the last envelope.
100% recommend for casual and seasoned puzzlers.
Quirky and Creative!
I got the bundle and absolutely love it! I did Snack Attack first. The artwork is amazing. The characters are absolutely adorable and lovable. Opening the 2nd envelope after finishing the puzzle is so fun! Also, who doesn't love stickers? I would definitely buy the other bundle. Wow! Such quality puzzles!! Please make more!
So much fun!
I started with the dog teachers puzzle and its been so much fun to put together! Seeing the characters reactions shift adds to the fun. It shipped quickly and the pieces are sturdy. The comics are cute, but the Snack Attack one is the least interesting. Would definitely recommend!!
Frequently
Asked
Questions
Odd Pieces are a new kind of 1000-piece jigsaw puzzle with beautiful, unique art created by undiscovered artists.They include a comic book that introduces you to the world presented in the puzzle, along with a surprise at the end that you can discover by following the clues. Odd Pieces are some of the best-selling and most-loved puzzles on Kickstarter.com, where they've been backed by over 9,900 people and reached over 100x its original fundraising goal!
There are 1,000 pieces in every Odd Pieces puzzle.
Besides the puzzle, you'll also find:
- Life-size Puzzle Guide Map
- Storytelling Comics
- Treasure Hunt Clues
- Limited Edition Sticker Pack
- Secret Ending Envelope
Our puzzles are loved by everyone! They are super fun for kids, while challenging enough for adults. Gift them to your friends and family and enjoy hours of fun together
While getting to know our artists, we realized that the road to creating art full-time was not always easy. That's why we are committing 5% of every puzzle sale to support other artists and their journeys! We will be awarding grants to artists who are filled with passion and talent, but who are short on resources to make their dreams come true. There are thousands of undiscovered amazing artists (and probably at least a few would-be Picassos!) who are limited in their creativity due to financial troubles. We want to help them fulfill their potential! If you are in that situation, apply for the grant now!
Please email us at hello@oddpieces.com. Our kind support team will be happy to help you out!